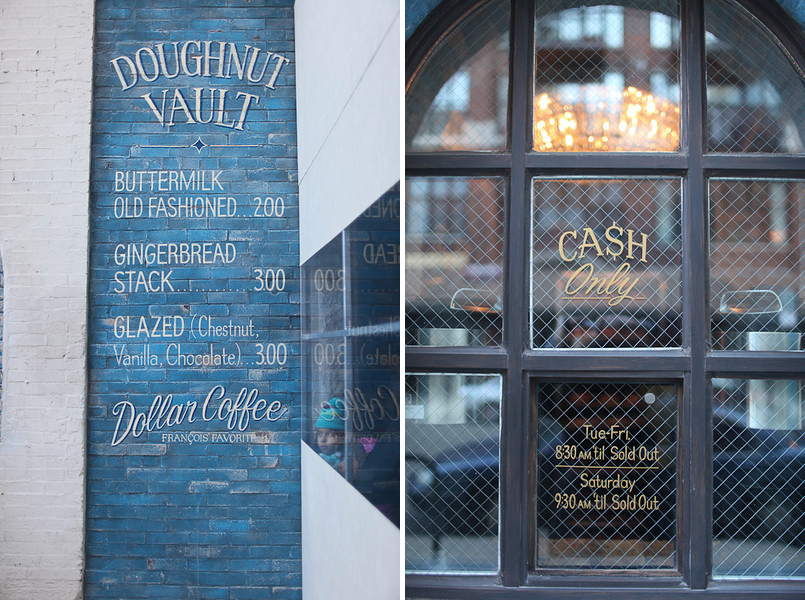 After the epidemical cupcake trend, there's a new sweet treat that's looking to take top billing; the doughnut. Judging by the blog buzz surrounding doughnuts recently, cupcakes might just have to move over soon to make way for this all American treat. One fast to catch on, is the Doughnut Vault that opened less than two weeks ago in the foodie-friendly River North area of Chicago. Since day one, this pastry place has attracted a long line of sweet-toothed Chicagoans willing to wait hours for a single bite.
Brendan Sodikoff never expected his newest venture to become so popular. The tiny, vintage looking space, is almost hidden except for its light blue door right. While Sodikoff assumed there would be sufficient space for lines on that side of the building, it turns out he was mistaken. The line regularly snakes around the corner regardless of rainy weather or cold temps.
So, what is it that makes these doughnuts worth the long wait? Bakers at The Doughnut Vault create homemade (not machine-made, as emphasized on their website) doughnuts using only high-quality ingredients every morning, so the results are always fresh and tasty. They stick to some classic flavors, like gingerbread, old-fashioned buttermilk and vanilla glazed, except for the occasional "featured" doughnut, like the crunchy pistachio glazed variety sold this past weekend. Depending on the flavor, doughnuts are priced at either $2 or $3 a piece, a steep price that hasn't appeared to deter customers in the least.
The shop doesn't have set hours; it opens around 8 or 9 am each morning Tuesday through Saturday, and closes whenever doughnuts sell out. Customers have started lining up around 7 am each morning, so getting there before 8 am is almost a prerequisite. Fortunately, the shop also sells small cups of coffee for a dollar, so you can get an early morning jolt after the long wait.
If you happen to be around Chicago, definitely visit the spot and catch some of these tasty treats!
http://vimeo.com/31491717