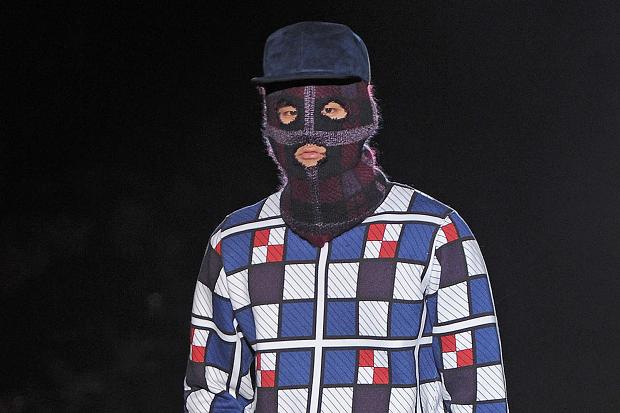 One thing is for sure, whenever something important happens on in the world (of politics) it usually reflects in fashion, design and photography. This time, with the antigovernment protests still going in Turkey, visible in Umit Benan's (rebellious) fall/winter 2013 and spring 2014 menswear collections.
Here, despite the bad political state in his country, the collections tell a story about Turkey, and reminds us that no matter what happens, the gentleman always stays a gentleman. The collections represent a mix of European, old Turkish traditions, elegance and rawness, layering and great tailoring.
Winter "13 was filled with rebellion, deconstructed formal wear, where "Street Goths" wear silk parkas, suede bombers, harem pants, quilted shorts and other grungy favorites. Yet, beyond the dark runway show and police sirens soundtrack, we clearly see a hyper-masculine subculture dressed in luxurious fabrics and spectacular suitings.
For his spring "14 show, Umit recreated a "meyhane," a men's-only Turkish bar, where a musician played a darbuka. Treading slowly over carpets, the models, each wearing a cartoonish mask with a fez and moustache, resembled characters of a slightly surreal movie.
Even though this show had a (quite) decorated atmosphere and accessories, the collection itself is pretty simple. Without all the props, the garments are mature, elegant and easy to wear.
Umit's own story, much of which can be read through the dates, faces, and symbols on his heavily tattooed arms, begins in Germany, where he was born to Turkish parents. He moved to Istanbul two years later, then to boarding school in Switzerland. He went to college at Emerson in Boston, then to Central Saint Martins in London, and Parsons in New York. He landed at Marc Jacobs in 2005, followed by Pollini in Milan and Cacharel in Paris. But his career spiked in 2009, when he presented his first menswear collection in Milan.
What makes the designer stand out, is the way he likes to mess around with traditional menswear styles,: e.g., a greatcoat that could have been worn by one of Stalin's generals is reimagined with nylon sleeves. Finding inspiration in opposing forces goes back to Benan's upbringing in Istanbul, where "you have the rich blond girls with tits out and the woman walking down the street next to her all covered," he says.
Recently, he was also named the fashion consultant at Trussardi, but he is also looking to bring his own brand to the next level. He wants bigger budgets to augment his story, not that it could ever be limited to just fashion. "I'll never do this for the rest of my life and be happy with it," he says. "I'll always need more, which is good and bad."
Who knows, maybe a film career?