Fashion is awesome, but what if in the future "awesome fashion" would actually mean, wearing a dress or a shirt made from the same bacteria that helps ferment beer or wine?
You'll likely be disgusted by this all-organic, fermented fabric and probably wont expect to see these dresses on the sale-racks of Topshop anytime soon... Although, some of these new and fascinating technologies, like the Micro'be,' will be the answer to cotton shortages around the world and mean a great deal to our environment.
A research lab at the University of Western Australia, started out with hopes of creating a cyborg with self-developing skin, yet, created the newest line in womenswear; skintight dresses made from fermented wine.
Micro'be's fermented fashion is a result of working on the process of taking Acetobacter, the bacteria that ferments wine into vinegar, and and turning it into a "living" fabric. The by-product of fermenting a large colony of this bacteria, is the formation of micro-fibers or cellulose which are synonymous with plant based cottons.
In addition to using red wine, the process can use white wine or even beer to produce different colors (because obviously you'll want options). The research team has also experimented with differing textures, hopefully allowing them to branch out of the skin-tight style.
Designer Donna Franklin, wanted to "challenge people's perceptions of body-garment relationships and our relationship to the natural world and the commodification of that world".
Having chosen fashion as an outlet for their creations, the pair hope to provide a social commentary and promote debate within the field.
"Our society is based around capitalist ideas," Donna said. "So I think, as an artist, to have that opportunity to take your art into that system and infiltrate it and maybe change it, or change people's ways of thinking, particularly… when people are becoming more concerned about the ethics of production and consumption and green technologies, is a great thing."
Wearing these type's of new "bio-technology" may seem hard for us to conceive now, but, there is absolutely no denying this type of fermented fabric, or any kind of new biodegradable solutions, would be better for the planet by eliminating the need for intensive farming practices involved with other fabric types, so let's prepare for the future.
The day will come when we move from grabbing our clothes at the mall straight to "growing" our own garments.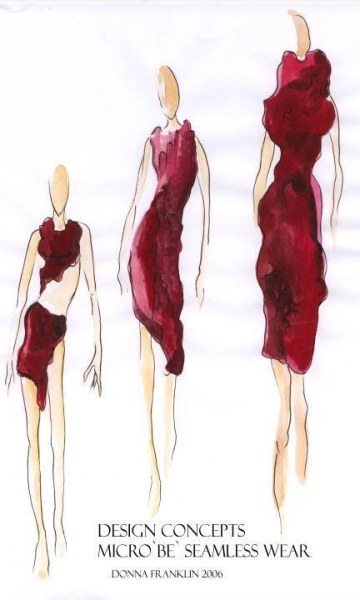 Take a look at how these famous people are making a positive impact on our environment.
Probably the most eco-friendly designer, McCartney has been a vegetarian her whole life and huge supporter of PETA. She's spoken out numerous times about the use of fur and leather.
In 2007 PETA helped Tommy Hilfiger ban fur from his collection. He also offers cruelty-free colognes and is a huge contributor to saving Asian elephants and their habitat.
Top Model Gisele Bundchen founded the Clean Water Project, launched eco-friendly skincare and sandal lines, and lives in 22,000-square-foot green home. She also launched an eco-friendly cartoon for AOL Kids and in 2011 the Global Environment Citizen Awards honored the hottie.
This year Miranda Kerr, top model, wife of Orlando Bloom, was an ambassador for Earth Hour, an event that encourages people to turn off their non-essential lights for one hour to raise awareness about climate change. She also works with the brand KORA, which produces organic beauty items.
In 1994 PETA sat down with Calvin Klein and watched a video of animals being killed to make fur. His collections have been fur-free since that time.
Angela Lindvall is the founder and president of the Collage Foundation, an organization that supports eco-friendly choices among youths. She is also an ambassador for the Sustainable Style Foundation.