While working on this blog I came across so many different and beautiful vases, I felt compelled to share some of my finds with you. Also I find myself becoming more of a flower and plant person now that I grow a bit older, no real particular reason, they just smell nice, feel natural and look beautiful (I tend to treat them better, too.) On my recent stay in Bodrum, I had even planted my own beanstalk, as I love to eat organic and try to take matters into my own hands as much as possible. It was incredible to watch how fast they grew and how cool it is to grow your very own little products.
Below I have assembled some really unique and interesting ones. Find more information by clicking below the pictures.
Shaped like ripples in water, the vases by Japanese Oodesign allow you to place flowers into a PET formed resin void, floating nonchalantly on the water. According to the movement of the air, the plants change their position within the container making it look quite magical...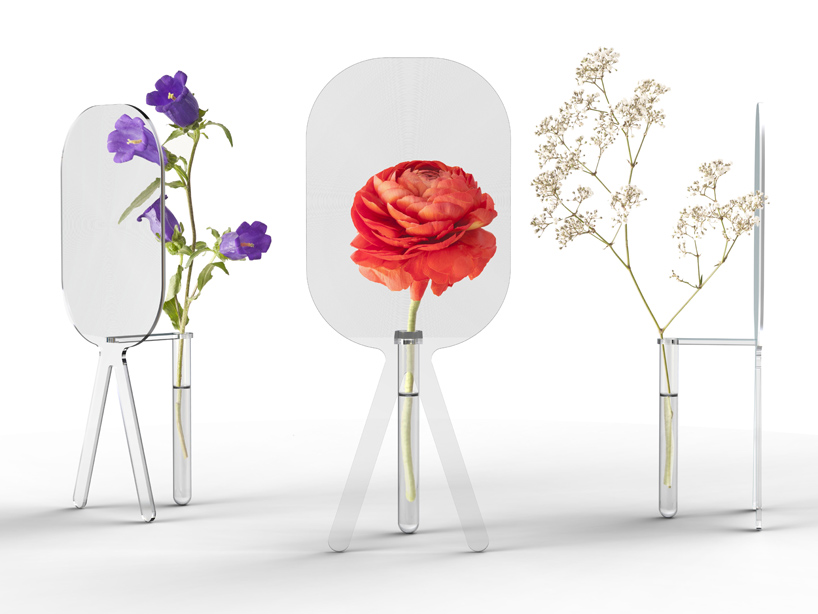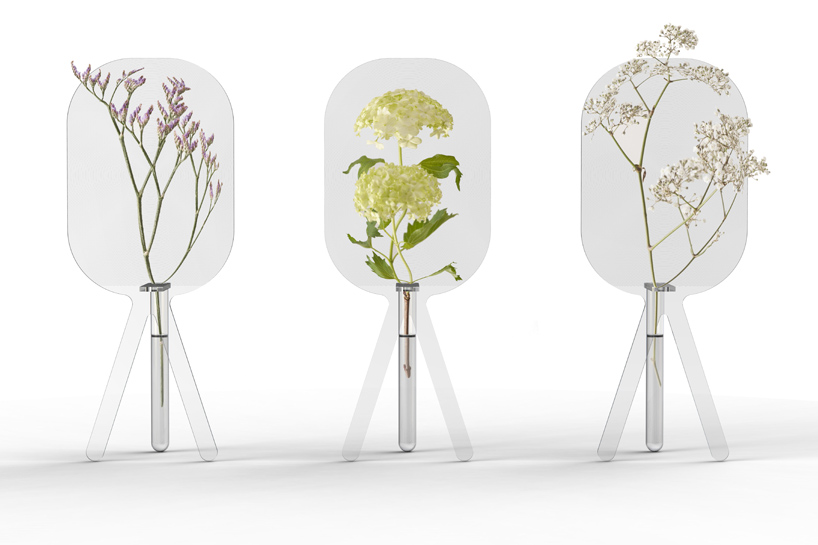 Dutch designer Charlie Guda wanted to pay hommage to Uugustin-Jean Fresnel, the man responsible for having created the thinner and lighter lens which we aptly call the 'fresnel lens' today, in a prosaic way. So, he decided to do so through the means of a transparent flower vase called 'Big Bloom'. Composed of two main parts, a test tube in which to hold flora, and a fresnel lens, this arrangement of components offering an intensified and magnified visual of the bloom in place, bringing forth all of its intricacies and details.
A couple of cool ideas to add more green, randomly, the easy way. Via Llot llov.
Hanging Pot from the debut Materiality collection from Cooperativa Panorámica.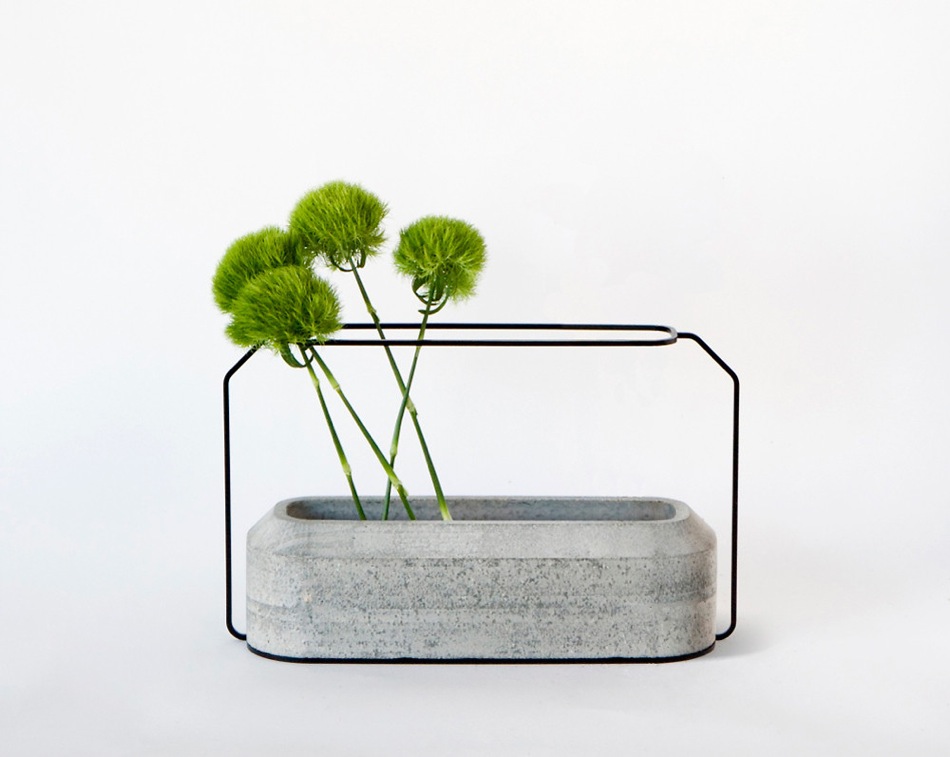 This piece strips a basic vase down to its most basic functionality: holding flowers aloft in water. Designed by Decha Archjananun for Specimen Editions, this eye-catching vase takes a beautifully minimalist approach to a decorative object that has existed since Neolithic times. Click here for further info.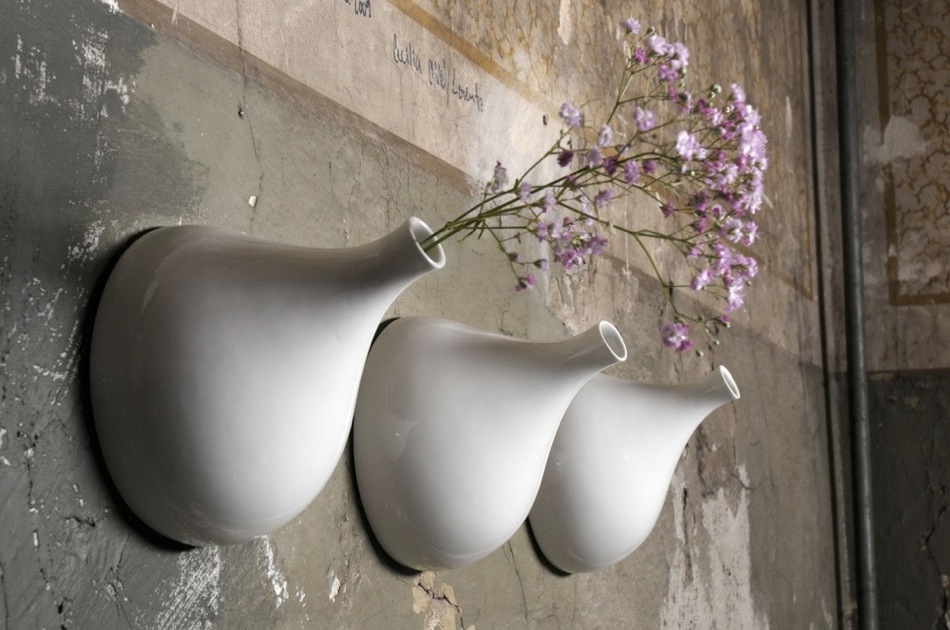 This vase is perfect for storing various herbs in your kitchen. It consits of a row of four hand-blown glass vessels are suspended from a steel wall mount, created by SkLO Studio, a collaboration between a Czech glass blower and an American husband-wife design team located in Sonoma County, California.
An impressive cityscape of 12 wheel thrown stoneware bottles in a clean, modern matte white. You can line them up on a fireplace mantel or create a sculptural tabletop centerpiece. It makes a bold, modern statement, it can also be broken up into many smaller groupings for different rooms. Contact Sara Paloma or get it at Etsy.
Tania da Cruz created 'Wig', a flower vase with unexpected forms. It's shaped like a human head. The water is stored inside it and flower and plants inserted to the wholes will look like a strange and yet beautiful wig.
With Wood Vase, every single vase shows its very own style featuring brown streaking, vivid color shades, or small parts of white sapwood. The minimalist design of the body displaying four removable glass tubes makes it the perfect choice for artfully arranging delicate flowers, flowering twigs or grasses, freeing each bloom to flaunt its beauty. Get it here.
This Hanging Pot from the debut Materiality collection from Cooperativa Panorámica looks just beautiful and basic. A little light pond for at home.