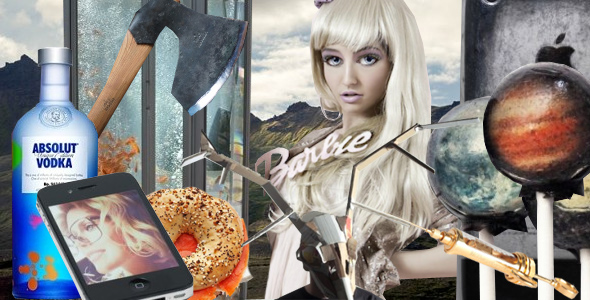 A recap after a month's publishing, we'd like to share with you our favorite posts, check them out below!
A cool way to lick the solar system? If not just that, these are definitely the most creative and cool looking lollipops I have ever seen. Etsy seller Vintage Confections has the answer with their fun set of eight lollipops containing edible images of the planets. Get ready for Halloween with their insects, flies, spiders and centipede set, or just try good old vintage eyeballs. READ MORE.

BARBIE AND KEN LIKE YOU NEVER SEEN THEM BEFORE
Vancouver-based photographer Hayden Wood has found a new look for the iconic doll in his fashion photo series known as Living Dolls. It may not be the real Barbie, as manufactured by Mattel, but it certainly is inspired by the blonde toy figure, who is accompanied by her fictional male counterpart, Ken. READ MORE.
A Kansai-based five-member art collective known only as Kingyobu (goldfish club) have been installing goldfish tank phone booths on the streets of Osaka.  Details remain murky – like,why? – but the group seems to have debuted their contraption at an art festival in late 2011, and have gone on to install several others throughout 2012. READ MORE.
Polaroids used to be the bees knees, tech wise. They would let you immediately see, as well as print the picture you just took. In a world where you had to wait a week to have your shots developed, that was awesome. But then, digital cameras came around, and things changed. But fashion can go in cycles and what is now old often ends up being rediscovered by younger generations and brought back from the dustbin with a shiny new coating. The Impossible Instant Lab seeks to combine the best from smartphone photography (portability, immediacy, versatility) with not only the nostalgia of Polaroid cameras, but also the fact that they do give you a physical sample to carry along with you. READ MORE.
ABSOLUT VODKA HIRES ROBOTS TO DESIGN THEIR NEW DESIGNS
Oh well, why dont we just hire some cool robots to design our new Vodka bottles? And so, for the stunning new Absolut Unique bottle designs, as the new edition is called, Absolut Vodka decided to really rely on robots, rather than on humans. READ MORE.
A HISTORY OF NEW YORK IN 50 OBJECTS 
You may remember a joint project between the BBC and the British Museum to chart the history of the world in 100 objects which create a fascinating redux of the human experience. Well never backwards in coming forwards, New York now has its own list (although the team at the New York Times were modest enough to limit it to 50). The famous paper invited curators and historians to compile the selection which features everything from ticker tape to artichokes and ranges from a mastodon tusk from 11,000 BC to a contemporary election sign. READ MORE.
Nietzsche-influenced free-thinker, artist, Jozef Mrva has created a series of animal masks made from readily available cardboard.  READ MORE.
Every now and then I see such cool handcrafted tools, reminding me how deep I am playing in the digital sandpit. John Neeman Tools, a small crew of craftsmen (3) from Latvia, put up a video a few months back titled The Birth Of A Tool. It showed how they make their tools by hand, in the same way man has been making tools for generations. READ MORE.
Funny how sometimes a low-tech product can outlive a high-tech one because there are fewer components to fail.  And its interesting to, before we throw our oldies to be dismantled and melted away, take a moment to examine what they are made of and how it has aged with time, because their fading reveal the stuff they're actually made of. READ MORE.
How much power do you need? How much wealth do you desire? In other words, how greedy are you? If the answer is 'TOO MUCH' then you immediately need an injection of 5ml crimp-sealed serum containing one dose of stabilized pure dollar ink mechanically and chemically recovered from approximately $10,000 in US currency. Basically, many of us need The Cure for Greed by Amsterdam based artist-designer-inventor DIDDO. READ MORE.