In 50+ years of Intermedia, we have been pointing fingers at mixed media crossings in an attempt to define its theory and genre. Looking for an object in dialectical interstices, attempting to describe the essence of a thing and not the conscious experience itself. As such I sustain that Intermedia only happens in experiential space.
The traditional objectification of art becomes blurred in true experiential events. Intermedia defines the art form off context and only alive in the imaging of the subject. Its theory requires examination and probing. Let's begin with conscious perception and the experiential process which seem central to this discussion.
Experiential is typically defined as the experience of existence; it is usually very rich in content and derived from observation. Somewhat like our first time experiences which seem so vivid and generally leave a lasting mark. In experiential states, perception establishes the act of conscious awareness. Perception mirrors consciousness, providing a sneak peak and a snap shot of reality. It is a sneak peak because there are infinite number of realities overlapping until somebody looks and perception takes place. It is a snap shot in that reality shows up as frozen slices of what happened. This phenomenon has been described as the "Observer Effect." At that junction "the gel sets a blob of space" and we are able to see. The sneak peak gives us the impression of continual reality. Neuroscience asserts that reality is instead knit together in a sutra of sequential snap shots some of which are made up filler frames of our own doing. On a side note we really don't know who is doing the seeing; nor do we know whether this stubbornly persistent illusion we all see is true.
So let's examine these junctions where we suppose "bings" of consciousness appear and disappear. At this moment the object subject entangled relationships provide us with an experience we can observe. We assume ownership of this experience, but we are unaware that we are really eyes on the giant pancake of proto-consciousness looking at itself in a close loop. Intermedial spaces are useful in the study of cognizance because they open up paradoxical temporal windows into consciousness through the portal eye of experience.
In Intermedia, time is essential as it allows the experiential process to unfold in the viewer's mind. The relational narrative takes place as the subject's participation defines the intermedial. The object takes a second row seat and experience becomes very personal and time bound. Unlike traditional art where the object defines the artistic substance; and more like Conceptual Art when it formulates the "dematerialization" of art and the removal of objects altogether. In Intermedia the interrelationships become the work of art. The subject in this intermedial experience participates involuntarily in critical transformations. Like altered states of awareness, any uprooting of deep psychological scab unscrewing leads to growth and can be unpleasant. The transformative nature of the experiential unclogs our senses and we begin to change. This effect reminds us of catharsis, deep meditation and hypnotic trances.
In eastern philosophy conscious awareness is connected with a deeper reality, implying perceived reality may be just an illusion. In the Plato's cave of the West, we appear as passive spectators invited to a movie screening featuring shadows of ourselves. On all accounts it seems that conscious perceptions may obscure a deeper reality from within. The Cartesian theater has furthered the idea of separation in that the audience is the conscious observer and consciousness the projected play on stage. With its many actors, plots, props and lighting, the audience perspective distances us from factuality, like cheap entertainment, we helplessly digest the scripted realities fed to us. In intermedial experiences the opposite happens and your active participation is required. When effective, the intermedial relationship gives us a sneak preview or awakening into the immaterial conscious.
The materialistic thought that we are biological machines processing world projections inside our heads objectifies the self and separates us from the source, leaving out important temporal phenomena. When we are day dreaming for example, mind wandering and in meditation, brain activity occurs without sensory input. How about the assumption that the brain is a localized utility that serves a much greater extended mind. This extended mind would far transcend brain capacity, range and subtleness of perception and it would have infinite and omniscient banks of information. This assumption clashes with the biological machine theorem that conscious experience happens due to electrochemical stimuli sensory input and arousal. Perhaps only the unconscious, zombie limbic state that self regulates our breathing and heart functions is causal and operates this way. In mind wondering, fantasizing, insightful thinking, day dreaming and REM sleep there is no measurable sensory input, yet lot's of activity take's place inside our heads, moving and redistributing consciousness around the grey matter. This activity may be the immaterial quantum phenomena cohering and de-cohering inside our gap junctions. In these moments we may be exhibiting entangled anomalies. Here the borders of our mind shift and we transcend the world of matter and energy. All information might be encrypted into this omniscient spacing as demonstrated by savants unlimited fine point access to unlearned tasks and cognizance. Accessing the extended mind could enhance the unlimited possibilities of human consciousness.
When we loose consciousness our mind disappears, like when under the effect of anesthesia. Our autonomic systems and autopilot keep running the show and the body breathes and pumps blood naturally. However the sense of being awake is gone elsewhere. The anesthesia isolates consciousness from the brain; might consciousness leak out at that moment into the universe somewhere? Reports of Near Death Experiences suggest that consciousness does leaks out into the local universe condensing temporarily in quantum coherence observing the body from above. Like in lucid hallucinations, the subjects report coming back to life completely changed. The experiential nature of Intermedia has the potential to engage subjects into similar transformative states, and this is what is important here. Like altered states of awareness and loss of consciousness; Intermedia can expand the sense of me and experience the omniscient minds I.
On the matter of I and thought which when insightful can be experiential, we presume a ghost in the machine doing multilevel thinking. Most thinking is done in reflexive mode, as we continuously repeat fixed habits in response to sensory data. In meditation practice you need technique to quiet automatic thoughts and much effort on the part of the seeking student. If the mind is not silenced we tend to spew out millions of thoughts and words continuously. In this state, your mythical mind remains underdeveloped. For Intermedia to be transformational, the viewer must quiet the thinking mind too. For the artist, this is a technical challenge in that the work is redone by the viewer's attention just as much as technique conditions its perception. At that point we arrive at co-creation and this can arise with unease. The discomfort of having to deal with a time based experience is resisted by the viewers iron walls of belief. Unlike the wall painting which allows you to walk away. In Intermedia you cannot escape "knowing" the piece. Conceptual Art allegedly suggests that artistic production should be at the service of some kind of knowledge and that the art object is not an end in itself. Sol Le Witt would say "the execution (of the work of art) is a perfunctory affair." (1)
Like a night at the "total art" opera could not be told unless you were immersed in the Wagnerian narrative. In Intermedia you ultimately need to experience existence. Challenging old perspectives, the experiential phenomenon imposes itself on the viewer. Designing novel interrelation spaces, Intermedias ability to transform the cultural landscape is greatly misunderstood. Not just as art form but also as therapeutic modality, Intermedias role in the collective experience might be to tear away the filters of perception that keep the mind from seeing. From the so far understated, it seems that any theory of Intermedia is deeply rooted in the process of understanding conscious awareness and the relationship of the spectator in the work space. We can also conclude that the subjectivity of the viewer interacts with the objective elements and that you can't have intermedial without the subject's active participation.
This interaction happens in some in betweenness, in some confined space that is closed off by structural encasings, call it architectural shells. We are led to define the out there and the in here, the idea of boundaries, and limits, and where we end or begin. These spaces are intermedial because they are delineated, like the gap junction inside the dendrites, the "bings" of consciousness appear confined to these shell encasings. A shell can take the form of squares, triangles, hypercubes and ovals, just like our temporal plates contains the grey matter and head stuff that defines who we think we are. In nature the geometry of structure is rich with boundary shapes and delineations. This begs the question of what might lie outside these boundaries and what is in the space between the shells. The fractal nature of the encasings suggests many skin levels; many insides and outsides, many crossings. It also appears that our encasings are leaky buckets filled with many holes and eyes that filter in and out the perception of a conscious experience. Wherever we look and every time we measure, it appears that we don't end nor do we begin where we thought so. The mind seems to extend beyond our human shells and our electromagnetic and energetic forces project toroidal mappings beyond our skin level. Nam June Paik famous phrase about the skin's inadequacy to interface with reality suggests preoccupation with the limits of perception. Mr. Paik solution to this inadequacy focused on technology and digital media as the new appendages of skin preceptors.
To further the case for the insufficiency in understanding perception, we have recently learned that conscious awareness occurs out of correlation with brain activity. Neuro-Imaging and Neuro-Feedback have allowed science to measure the speed of a conscious perception. This is recorded as flashes of action potentials within 100 msec after an impingement on our sense organs. Yet our brain activity decodes reality at 150-5000 msec, discrepantly several times too late for the conscious experience of nowness. In other words "bings" of consciousness inside our dendrites cohere 30 to 90 Hz faster than the neurology of awareness. Does this mean that when we finally experience the present it comes delayed from the past? So what gives it its presentness? This signature is established as a resonant frequency, or coherent vibrations. Vibration is energy extracted from the vacuum and can only exist in continuity. In conscious awareness, we perceive reality as discrete events, a script of sequential nature, and a stream of consciousness giving a sense of continuity. When there is discontinuity there are no vibrations. Maybe consciousness exists in this discontinuous, in between vibrations where the collision fields spin overlap and annihilate.
The Time Based Arts are different to other genres, in that its artistic purpose focuses on the relationship of subjectivity before the objective experience. The knowledge of these personal experiences reveal new aspects of reality, the experiential arts become revelational and transcendental. Intermedia as method is a bridge to the objective aspect of this subjective experience; like Fluxus, it is radically concerned with meaning and impact. Intermedia is also socially engaging because it's a free and private experience you can take home and not a fixed object of merchandise. We shall leave Intermedias social implication and purpose as subject for later study. For now we can infer the following:
1) Consciousness is primary and nonlocal; conscious awareness is a locally personal perspective story. 2) Consciousness is the field of interconnection of all things; this field acts like an omniscient extended mind. 3) Intermedial environments can feedback relationships with this field; this is the unified whole that falls between media.
In the dissertation of these three axioms, the art work really becomes an appendage to its theory. As such I propose that Intermedia crosses into philosophy and quantum theory and perhaps is also in search of the grand unified field. "Hans Breder's" recent comments in Art Forum, corroborates this artistic impression when he says: "I seek the immaterial or what in physics people speak of as ephemeral phenomena that cannot be reduced to mere things."(2) Our materialistic approach to things made up of parts was inherited from the mechanistic Renaissance; it has separated us from the experience itself which happens interconnected in a non-local milieu of proto stuff. Separation never really happens and it becomes relevantly dissolute in Intermedia. Curiously and since the beginning of art, Intermedia has always been available as artistic method that unifies all media. Its dematerializing effects can be breathtaking, mind altering and can reveal a new way of looking at things.
It is no simple matter when something alters the nature of reality, especially when it seems to come from nothing at all. Conscious awareness can change brain function and alter our reality. This can be demonstrated by the incredible plasticity of the higher nervous system when in learning new skills, under the effect of bio-pharmacological agents and by paranormal experiences; not like many of you would prefer to think but wrongly "consciousness is not a product of brain function." We have become prisoners of materialism inside Plato's cave, mistaking the appearance of reality in an indifferent universe with passive spectators. Freeing yourself from this illusion calls for reexamining the knowledge of forms. This knowledge transforms the awareness of conscious perception. Perhaps crossing the intermedial spaces will give us the experiential nature of consciousness. As such we can only know consciousness through experience. In this sense Intermedia remains a telescopic view of reality with the potential to change frames of mind. Its perceptual stage is fully open for discovery.
Carlos Cuellar Brown
(1)"Paragraphs on Conceptual Art", Art Forum, June 1967
(2)"Media Study". Art Forum, September 2012
Hans Breder "shall be" still of video, 2012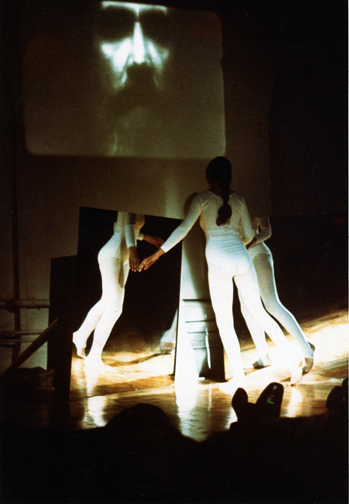 Hans Breder "Seriatim", performance, Experimental Intermedia Foundation, New York, 1976